Sundays
"SUNDAY SESSIONS" @ SLIDERS
Residents DaSoul! & Magical Iceman
MUSIC: Mainly house,
garage, downtempo, and classics
TUESDAYS
"SOUL ODYSSEY" @ EARTHWIRE.NET
(If you are in Houston, send me an email
for the address: Freedom@Earthwire.net)
4-7pm, Central Standard Time (NEW HOURS!!!)
MUSIC: Soul jazz, trip hop, 2 step, dnb, hip
hop (no rap), rhythm & blues (no rnb)...
DJ FREEDOM JUSTICE f/guests weekly!

See playlist page for weekly themes.
FRIDAY, JAN 17, 2003
FREEDOM JUSTICE CELEBRATES
35 YEARS OF LIFE!Okay, so now you know my age. Do I look it (see home page). I sure don't feel it. But I do live it out!
In any event, come to my (that's right MY) birthday party with the i10media family (big ups to Reg and Sed, your hosts). Good music, great people, and a lot of good times to be had. Click on the link below for more info.

There is also a second party at Aztecas (
www.rebelcrew.com
) for those of you feelin' for hip hop and rnb. DJs Joe B of Rebel Crew and SupaNeil (
supaneil@earthwire.net
) will spin hip hop and reggae, respectively.
Hosted by fly girl Sista Sarah.
NBA ALL STAR WEEKEND 2003
Allen Iverson is hosting a big shindig in Atlanta the first weekend of February. It is an upscale event for well-to-do black folks, you know how that goes. If you don't then go find out! Just make sure you dress to impress. Tell Keisha, one of the hosts I sent you. It ain't for cheapskates though: admission is about $60 a person or $100 if you wanna ball out. Yours truly Freedom Justice is spinning. If you need a reason, listen to my internet radio show Tuesdays, 4-7pm at
www.earthwire.net
(central standard time)
Email them at
w2events@aol.com
for more information.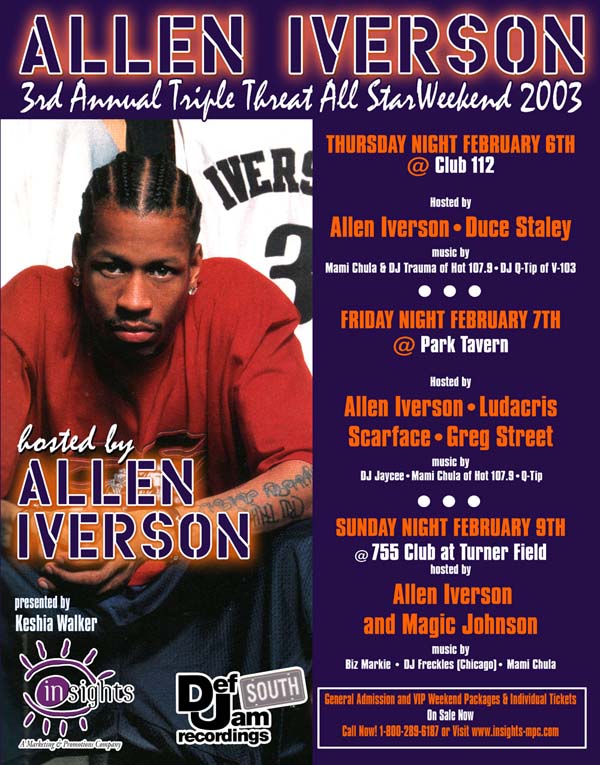 PM FUNK SHOW F/FREEDOM JUSTICE
Tuesday, September 24, 2002 (YOU MISSED IT!!!)
Featuring yours truly spinning. Vocalists Binx, Rashad Al-Amin, and the usual family of freestylists and vocalists. Come and see for yourself! Send me an email at Freedom@earthwire.net for the address.
---
BOB MARLEY FESTIVAL, DALLAS
Weekend of October 12, 2003
featuring yours truly spinning. Working on bookings for some of the bands from our FMF2002 deal. It's is going to be massive!

PARTY GRAS 2003
February 28-March 4, 2003
New Orleans. Louisiana
If you aren't excited at just the idea, then you
FUTURE MUSIC FESTIVAL
Various Venues in Houston, Texas
July 3-6, 2003
For more info and weekly updates.
DJ lineups, band showcasing, tickets
& more.
Include event name in the subject.

fjny@yahoo.com w/party name in subject.
Autumn Youth Conference 2004

Mixcraft Media in association with CD*Magazine
and Soul Source Bookstore in Atlanta are hosting
the first Autumn Youth Conference in Atlanta.
Taking place in the fall, this will be an annual event
focused on issues affecting young people-specifically
young black youth-nationwide.
A link to a seperate page will be created in February
to provide more information from my page here; Stay
tuned. Meanwhile, you can click on the skyline below
for more info about black businesses in Atlanta.